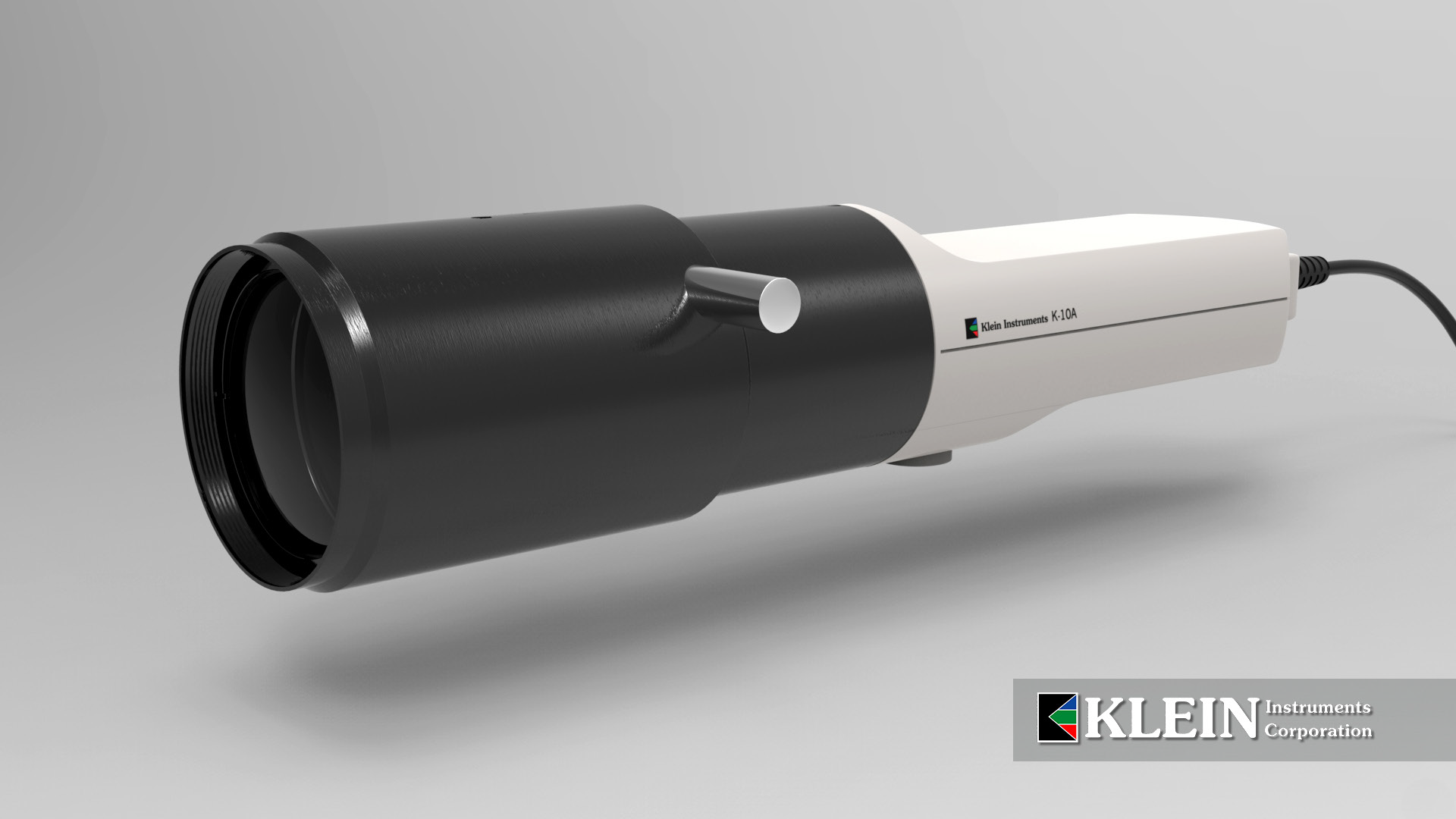 [KLEIN Instruments Corparation]
"K10-A COLORIMETER / FLICKER METER"
Tristimulus Colorimeter with Long-Rang Measurement Capabilites
The Klein K10-A has long been regarded as the industry standard in display calibration.
The Klein K10-A also functions as an FFT (Fast Fourier Transform) flicker meter.
Ultra fast measurements make this colorimeter the perfect choice for quality control and production line purposes. The K10-A can stream Intensity data in 3.2 milliseconds, and can provide color data in 125 milliseconds.
Like all Klein colorimeters, the K10-A is ruggedly constructed with machined aluminum and high impact plastic. It is equipped with LED aiming lights can be easy turned on and off by rotating the aluminum knob.
The Klein K10-A provides industry standard colorimetetry analysis, as well as the capability to measure flicker. The probe can measure color and flicker on OLEDs, LED backlit displays, CRTs, plasmas, projectors, and more.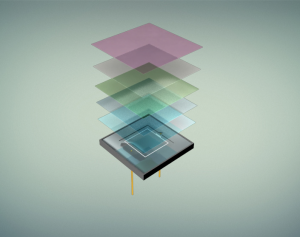 ?????
-Klein ChromaSurf?
Klein Chromasurf is the free companion software for the K10-A. Its streamlined, user-friendly interface is perfect for color calibration and flicker analysis. Also available is the Klein SDK, which allows users to develop customized solutions for measuring with a Klein colorimeter.
Cross platform : Chromasurf is compatible with Windows, Mac, and Linux operating systems, giving you flexibility in your working environment
Streamlined and Intuitive : Chromasurf features a simple, straightforward interface, with easy access to all the powerful features needed in calibration.
Data Display : Chromasurf gives the user control over how data is visualized. The graph or chart can be changed to a number of different configurations. Displayed units can also be manipulated for added versatility.
Real-time Flicker Analysis : The software's flicker panel gives immediate access to information as it's gathered. Flicker can be displayed in multiple formats to suit multiple applications.
Visual calibration : Chromasurf provides real-time visual information regarding, whitepoint, RGB primaries, gammut, and more.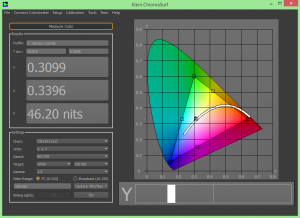 ?????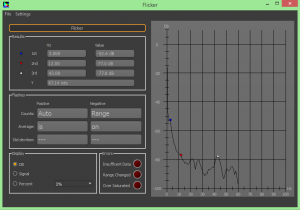 – Flicker
The Klein K10-A also functions as an FFT (Fast Fourier Transform) flicker meter. The probe measures and integrates Y data in the head, streams in real time to the PC, and then the FFT is performed. The Klein K10-A can measure regular flicker between 1-150Hz.
The Klein K10-A can be used to analyze any luminance source, inlcuding the common refresh-rate flicker in monitors, and random flashes caused by the transmission of current variations through solid state devices (LEDs). All flicker information can be logged and reported with Klein Chromasurf.
– Advantages
* 동작시 동기 신호가 필요없음.
* 매우 간단하고 명확한 계측 가능.
* 디스플레이 장치에 접촉식 비접촉식 두 가지 방식 모두 측정 가능.
* 모든 악세서리 기본 제공.
– Accessories
* ?Metal Klein Carrying case
* Tripod
* Rubber Lens Hood
* Cosine Diffuser
* Extension Tube
* Install Disc with Klein Chromasurf, Legacy Software, and Drivers
* Certificate of Calibration
– 상세 스펙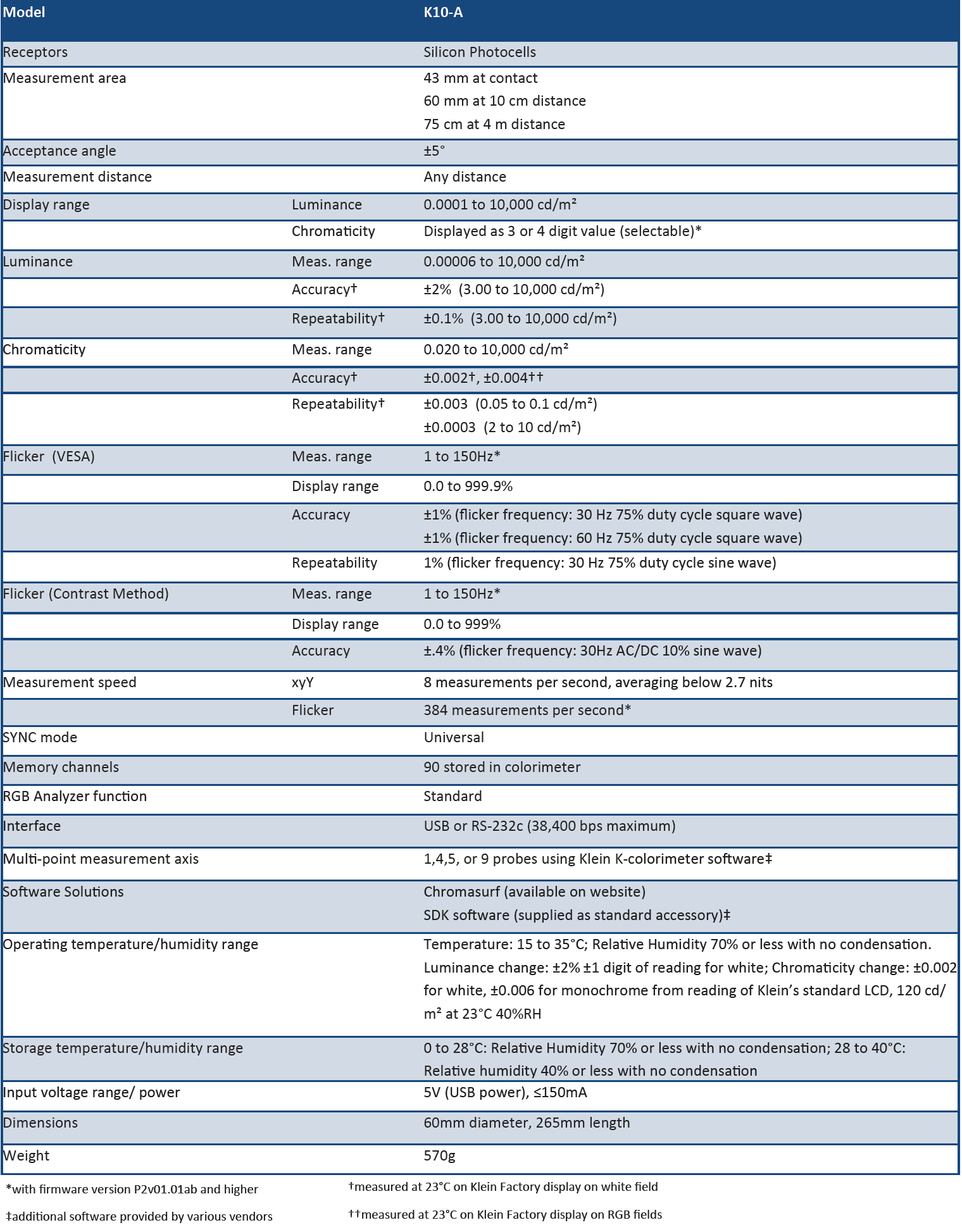 COLORIMETER 검사 위치 세팅하기
ChromaSuft 프로그램에서 테스트 컬러 일괄작업
ChromaSurf 프로그램에서 커스텀 프로필 생성하기
K10-A와 ChromarSurf로 White-Point 보정하기
K10-A로 HP z27x 모니터 자동 보정하기
K10-A FLICKER FEATURE